Alberto Galletti is the founder of RT Surfboards. For 20 years he has been shaping surfboards from his legendary shop in Anglet in France. He comes from Bologna in Italy, a beautiful city, but hardly a hotspot for watersports. Alberto started windsurfing in the late 70's during summer vacations and he's been obsessed with watersports ever since. He moved to France in the mid 90's where he opened his shop on the surf obsessed east coast in the outskirts of Biarritz.
Why and when did you start shaping surfboards?
– In 1984, I think, me and my cousin decided to build our own boards. We had no guidance and hardly any idea on how to do it; we were 17, landlocked and inexperienced, but for some unclear reasons board-building looked totally fascinating. I shaped all kinds of boards for me and my close friends for the next decade and a half, before finally creating RT SURFBOARDS as it is now, 20 years ago.
What makes RT shapes unique?
– All the people at RT SURFBOARDS are obsessed with surfing, surfers, surfboards and style. We carry decades of experience as passionate surfers and board builders. We live and breathe to offer a very unique blend of uncompromised performance, impeccable construction, bold style and personality.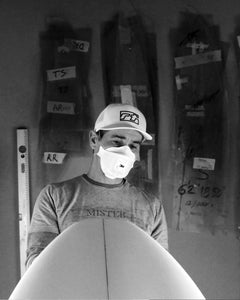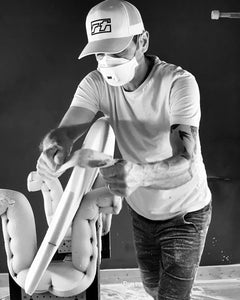 What is your theory on surfboards?
– There are many different types of surfboards; they work in different ways and are suited for different styles and different conditions. For one shaper, trying to master all types of surfboard shapes is illusory, I think. To be as good and knowledgeable as possible, I am focused on the wide family of the "'so-called' shortboards, only.

Where do you take inspiration from?
– As long as surfboard design goes, I rely mainly upon the surfer's feedback. From team riders, of course, as they have the level and the finesse to feel the detail; but I learn lessons and draw feedback from all kinds of surfers. Besides surf design, I try to stay open to all kinds of influences and to soak in inspiration everywhere: fashion, architecture, furniture, art, mechanics… Everything beautiful and remarkable is inspirational, regardless of the field.

Walk us through the process of shaping a surfboard?
– At RT SURFBOARDS everything starts with the design of the board. As I have been designing with a computer for more than 15 years, I have the inventory of all the boards we made during that time: a pretty solid archive to play with! When the design is ok, the raw blank (PU or EPS) is pre-shaped by our in-house CNC machine. The pre-shaped blank is then cut, sanded, checked and finished to perfection in the shaping room. Fin boxes are fitted in, then the board goes through the lamination process. We end the process with the sanding and different types of finishing, depending upon the surfer's demand.
What should one think about when looking for a new surfboard?
– You have to answer 3 main questions: 1) What do you want to do with it (it's about riding style)? Sporty, committed aggressive surfing, or mellow, easy going glide? 2) In which conditions do you want to use the board (it's about the wave type)? Small waves, everyday conditions, bigger, more solid stuff, stormy conditions, exotic surf trips? 3) Which measurements match with your body frame (it's about your size)? Surfboards work better when the dimensions are appropriate!

A mid length surfboard has become popular the last couple of years, why do you think that is?
– Mid-length is actually a really wide, generic description: many different shapes coexist under this same ''label''. The vision I had, when I developed this model, was for a shape long and big enough to be comfortable and sincere, but technically enhanced to still be capable of drawing beautiful lines in a wide range of conditions. No wonder that such a shape is popular!
What are the characteristics for the Singular board?
– The RT x Singular Society Mid-L has a very balanced shape, with a mellow, progressive rocker. The bottom features a light double concave under the front foot, blending into an accentuated Vee off the tail. The rails are designed to deliver the best compromise between trust and sensitiveness. The boards are built with the finest materials available, PU core and polyester resin. They come in an elegant warm grey shade, made with tinted resin. For better fine-tuning possibilities, they are equipped with a convertible FCS II fin system (5 positions), so that they can be used alternately as Tri Fin or as Quattro.
Who should ride it and for what type of conditions?
– These boards are enjoyable in a wide range of conditions, and accessible to most surfers with a minimum of experience. The match between surfers size and shape measurements will define the character of the board: the smaller versions will be quite sporty for a big and heavy surfer; the bigger versions will be very comfortable for a small and light surfer…
LIMITED EDITION HANDSHAPED SURFBOARDS IN COLLABORATION WITH RT SURFBOARDS