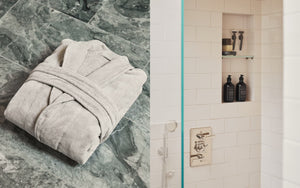 THE BATHROOM EDIT
Ultra-fluffy towels woven to perfection, bathrobes made of 100% organic cotton, and high-performance personal care products. Our bathroom collection caters to your needs from morning to evening.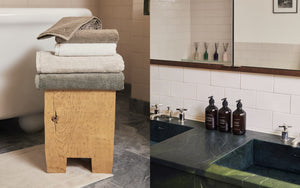 The key to an amazing towel is to have the right weaving technique as well as the thickness and quality of the cotton. We craft all our towels from 100% organic cotton and zero-twist weave them to an extreme thickness (680 GSM) for a soft, fluffy, and exceptional drying experience. Our personal care products are manufactured in collaboration with La Cosmetica in Italy.
Our bathroom experience is all about luxury and naturalness. The Cold Process Soap is crafted with care to nourish your skin. Our Organic Detergents ensure a gentle yet effective cleanse, while our fluffy towels take care of your drying experience. Where to put your toothbrush? How about a tumbler made from warm grey Milano marble.