Good night, and good luck – Check your sleep quality
There are four (perhaps 5 even) criteria to look into:
1. Sleep latency: Drifting off within 30 minutes or less is your goal.
2. Sleep waking: Waking up once or not at all suggests that your sleep quality is good.
3. Wakefulness: You should not be awake more than 20 minutes per night after you first go to sleep.
4. Sleep efficiency: The amount of time you spend actually sleeping while in bed should ideally be 85 percent or more.
5. Your bed feels like your best friend. Oh… let's look into that one a little bit more :-)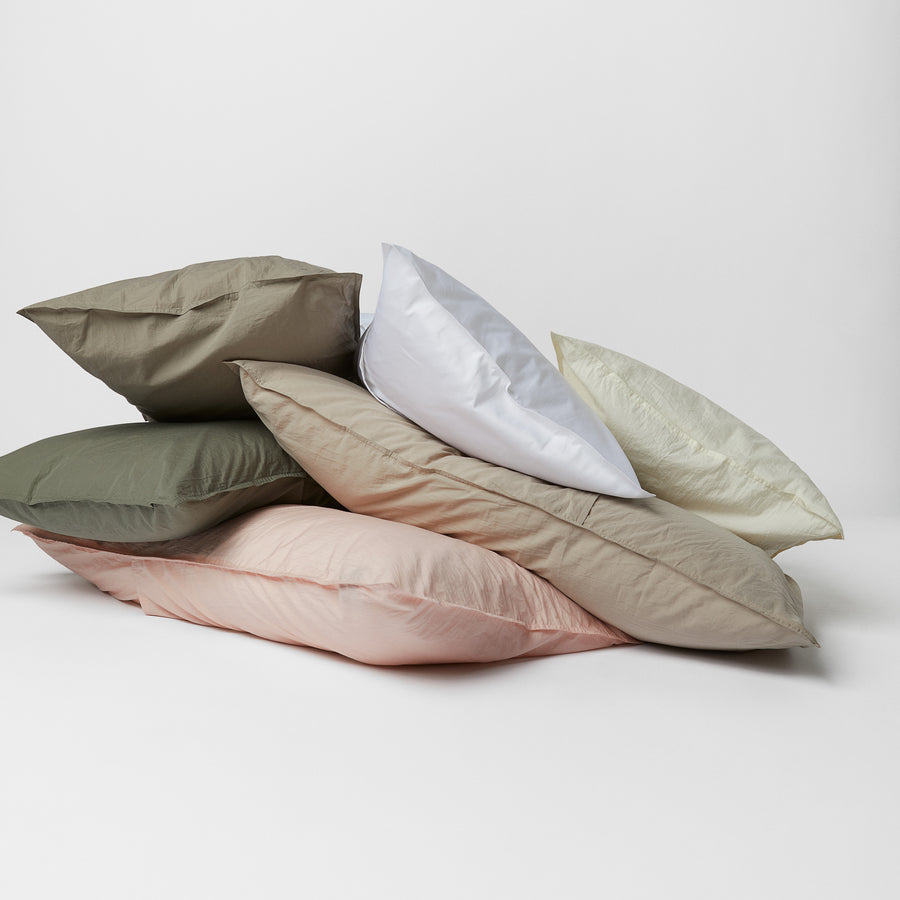 Bedlinen
Sateen or Percale?
All our sateen and percale bed linen are made from a uniquely developed extra-thin thread of organic pima cotton woven with an extremely-high thread count (600 and 320). Both are of course high quality choices that will increase your sleeping quality significantly. But there are differences, so the eternal question still exists: sateen or percale? If you are after the classic luxury hotel experience, always opt for high-quality sateen. Percale has high breathability and a light and airy touch, with a more bohemian look-and-feel that looks just as good pressed as it does unpressed. The softness you get with percale is unbelievable. Also: We recommend pressing or ironing our bed linen to maximize comfort, look and feel. But there is a third choice…
Cool it of
Go for linen
As a summer alternative to percale or sateen, try breathable linen which is ideal for warm (or cool) temperatures. Lightly textured and cool to the touch this natural fiber fabric is prized for its durability, breathability and lived-in look. Linen is derived from the flax plant which makes its fibers tougher to break down, resulting in bed linen that only gets better with time. Flax needs no irrigation, rainwater is enough for it to grow so growers use less fertilisers or pesticides which make linen a beautifully natural material that's easy to love.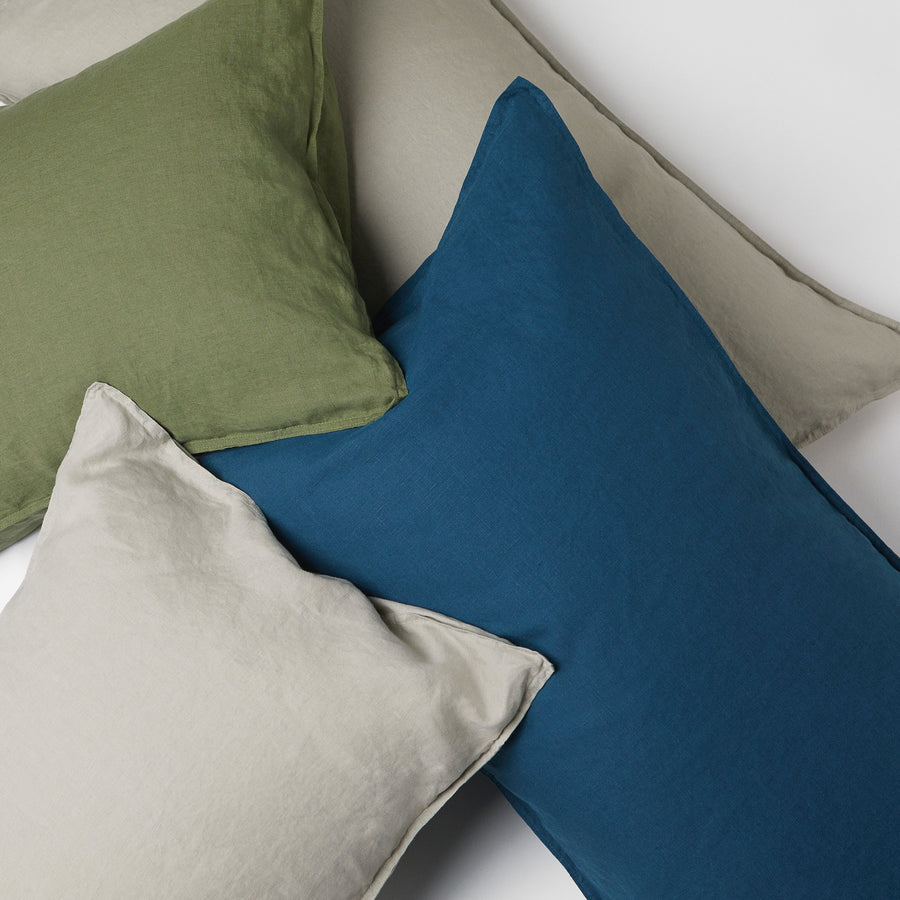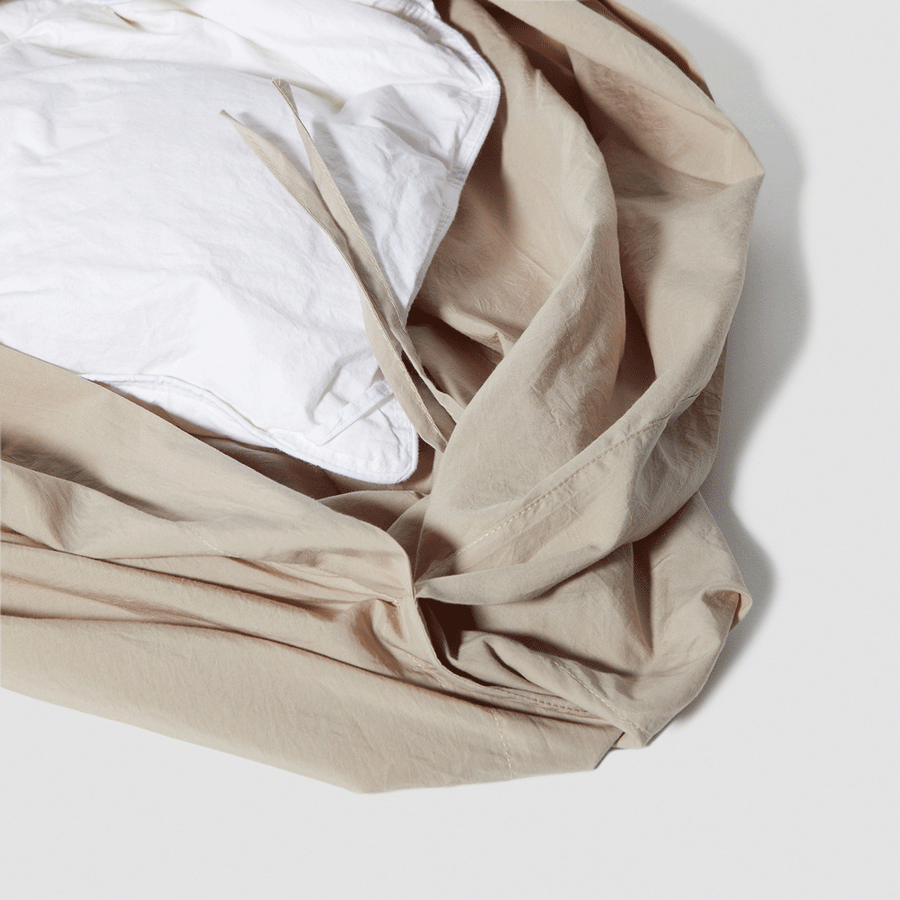 Make it hassle free
Oversized flat sheets and magic knots
Considering how much time we spend in our bed, even the tiniest improvement on your sleeping quality can have a huge impact on your life. In that spirit all of our flat sheets come slightly oversized in their measurements. This helps avoid one of the biggest pain points we know of when it comes to the world of bedding; flat sheets that don't stay in place :-) Another life hack is our "magic knot" solution. All of our duvet covers come with a knot on the inside of the corners that connect to our duvet inserts, to make sure they always stay in place.
Duvet material
Down or Down alternative?
Well, it depends. Down is the holy grail of duvets and always a safe bet, but down alternative, on the other hand, is both hypoallergenic, and more affordable. With our down choice you get the look-and-feel of a larger-than-life fluffy duvet, with the comfort and ease of a thinner one. Made from the highest quality RDS down and sewn with square pockets to enable a consistent and even distribution of warmth that lasts over time. They are covered by a highly breathable and luxurious 400tc organic pima cotton sateen shell. Our hypoallergenic Down Alternative duvet is made from 100% recyclable fibre and recommended for anyone who is extra sensitive to down. We have managed to develop a technique that very closely resembles the feeling of down, so it's really just a matter of preference. Sewn-in a 400tc organic cotton sateen shell, that enables it to not get too warm and last over time.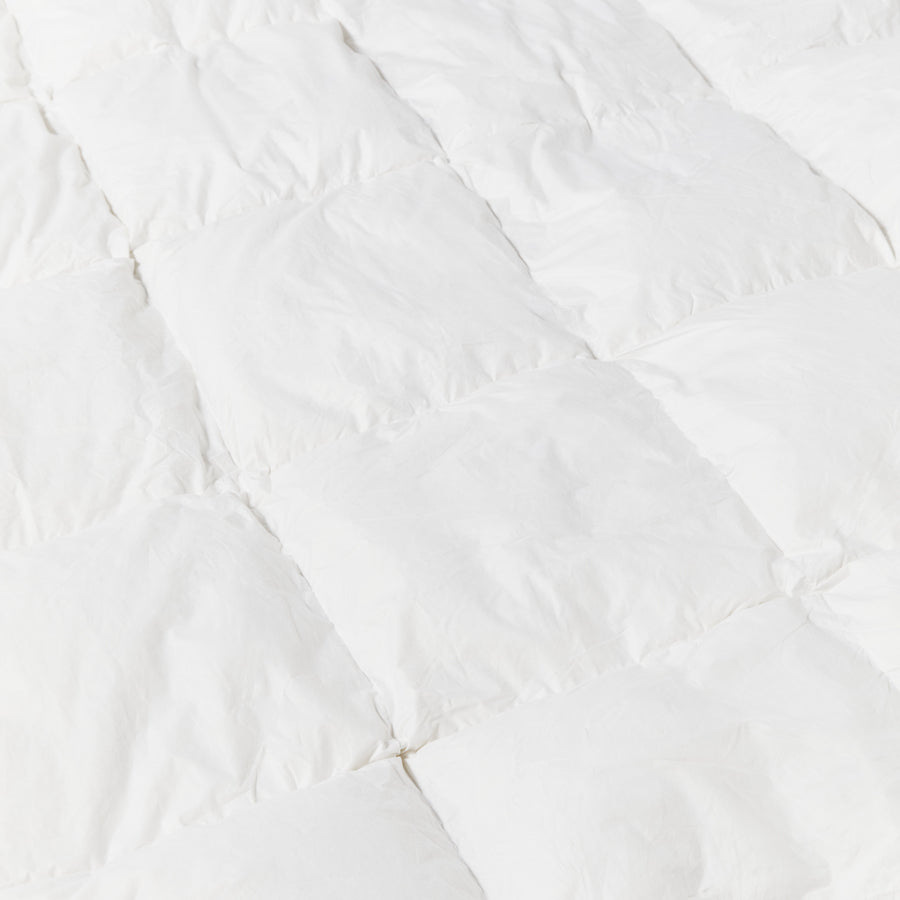 DUVET THICKNESS – FINDING THE PERFECT TEMPERATURE
Scientists say that the perfect sleeping beauty temperature is 18.3 °C. It's hard to dictate the weather, but what you on the other hand actually can dictate is the thickness of your duvet.
We offer all of our duvets (down or down alternative) in three different fill powers – light, medium or thick. Light would be the summer version and thick for all you really frozen ones. No matter what thickness you choose, we guarantee that luxurious fluffy feeling is intact.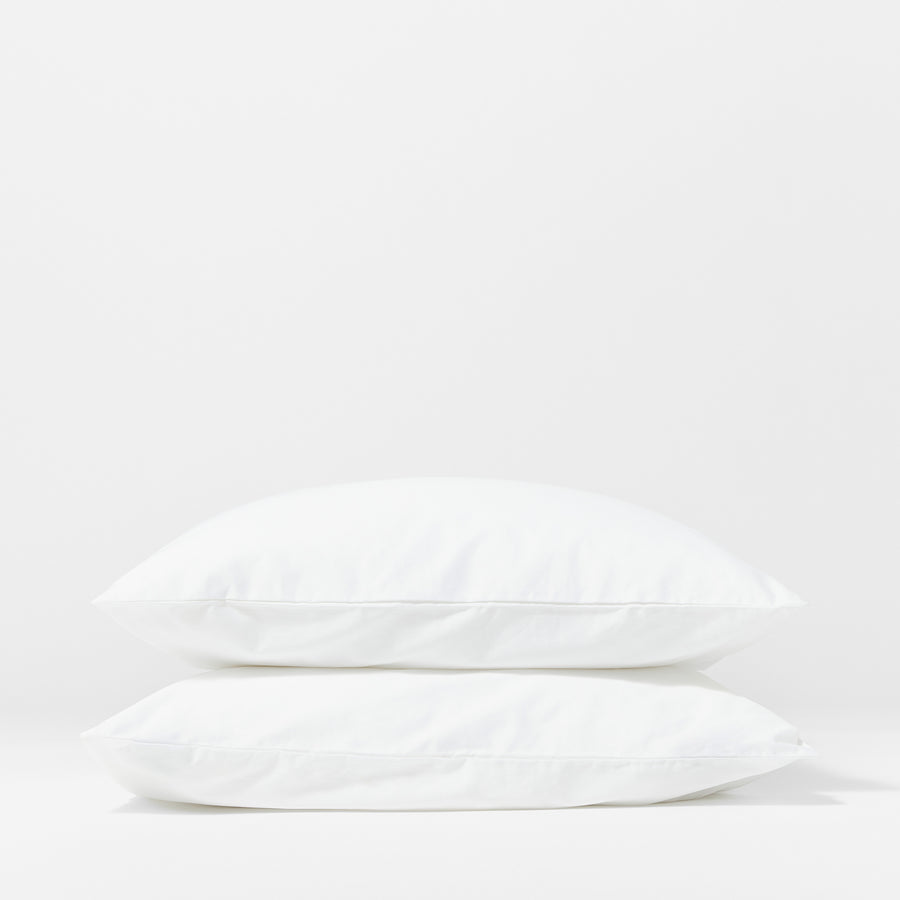 Pillow thickness
How do you prefer to sleep?
Our down pillows are made from the highest quality RDS down and reinforced with a double-stitch piping seam for durability. They come in three levels of thickness – soft, medium or firm. But which one should you choose? Actually it depends on how you prefer to sleep. Soft is best suited for stomach sleeping as it leaves the neck resting in a neutral position. Medium is best suited for back sleepers, with even more fluff and support than a light pillow. Firm is our most dense and supportive pillow, recommended for side sleeping as it requires extra lift to maintain good neck and head alignment. Also: don't forget to use a high quality pillow protector to extend your pillows lifespan. Our pillow protectors are made from the same 400tc organic pima cotton as our pillow shells. It's simply adding another fine layer of softness to the equation whilst at the same time effectively protecting the pillow and extending its lifespan.
The Downtopper aka The lifehack of lifehacks
A warm hug from your bed
A Down Topper, also known as a "feather bed", is that luxurious extra layer – on top of your regular mattress – to sink into, almost like getting a hug from your own bed. A true game changer for your sleep experience, commonly used by upscale hotels around the world, but not necessarily part of a traditional mattress set up in Scandinavian homes. Not yet.
Our down topper is made from the highest quality of RDS certified down and covered by a highly breathable 400tc organic long staple cotton sateen shell. The down topper features two layers: a top layer filled with fluffy down which creates that sought after cloud-like surface you never want to leave, while the thicker base layer is adding gentle extra support and comfort to your sleep. You can use it all year around – a breathable cotton shell circulates air and helps the topper sleep cool, while the down and feathers also insulate heat well and offer plenty of warmth.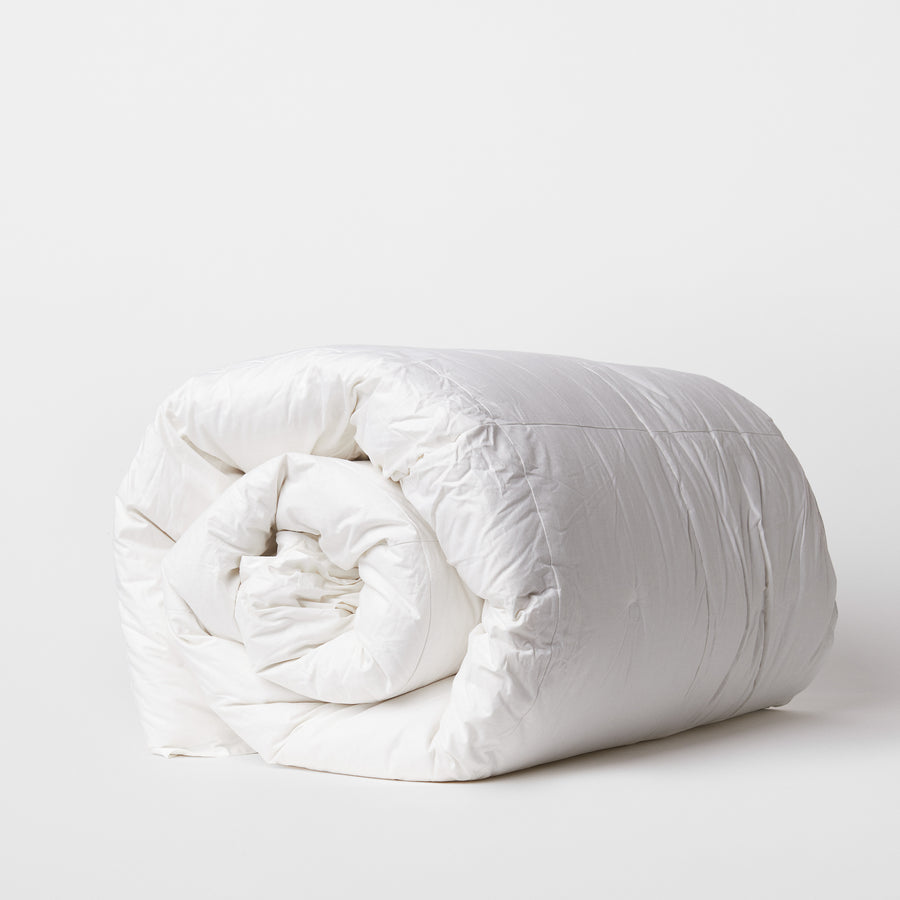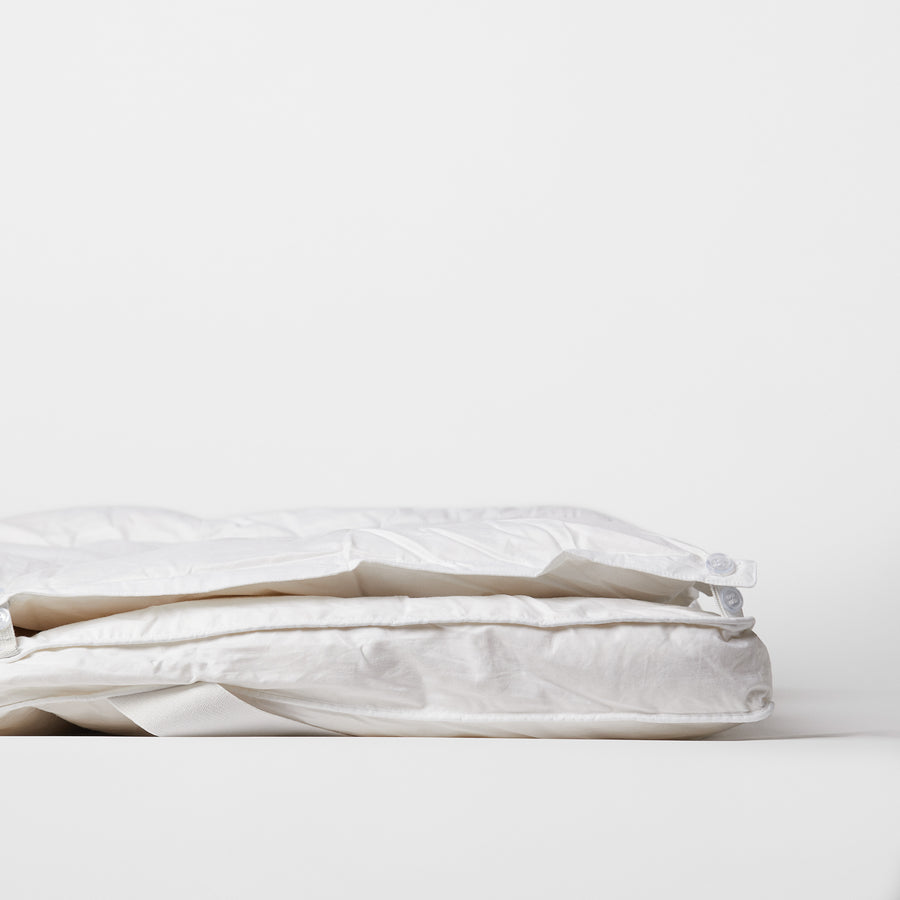 Setting up your Downtopper
Three layer magic
How to set it up? Well, this is definitely an area where there are almost as many opinions as there are people, but for what it's worth, here's our two cents... Go for a thick and fairly firm high quality base mattress (app. 30cm). Then add a down topper to create a plush, soft and semi-supportive top layer (you can use one or both layers of the down topper, depending on how you prefer it). If you prefer extreme mattress softness: add a regular topper between the base mattress and down topper (but don't go for too soft or thick, you still need support).
Bedspreads
Padded, Waffle knit or Jacquard?
The padded bedspread gives a little more traditional all year around-look, but also making it the the perfect companion for your bed in the colder months for that extra layer of warmth. Our version of the padded linen bedspread is lightly quilted and stonewashed for that incredible "already used" softness with closed stitch around all edges. Our waffle knit bedspread has a more bohemian feel to it, made from soft BCI cotton in an oversized waffle-knit technique that gives it a thick and chunky three-dimensional feel, without becoming too heavy or warm. Finally our lightweight jacquard weave bedspread is woven in a loosely knit gauze jacquard technique that makes it light and incredibly soft. It is created from extra-long-staple Supima cotton in combination with Seacell, made from Seaweed. Perfect for the spring and summer climate and also works brilliantly as a layering piece together with another bedspread.
Padded Linen Bedspread

Regular price

1 200 kr Member

2 300 kr Regular




Oversized Waffle Knit Bedspread

Regular price

875 kr Member

1 750 kr Regular




Jacquard Weave Bedspread

Regular price

830 kr Member

1 450 kr Regular



Padded Linen Bedspread
Regular price

1 200 kr Member

2 300 kr Regular



Oversized Waffle Knit Bedspread
Regular price

875 kr Member

1 750 kr Regular



Jacquard Weave Bedspread
Regular price

830 kr Member

1 450 kr Regular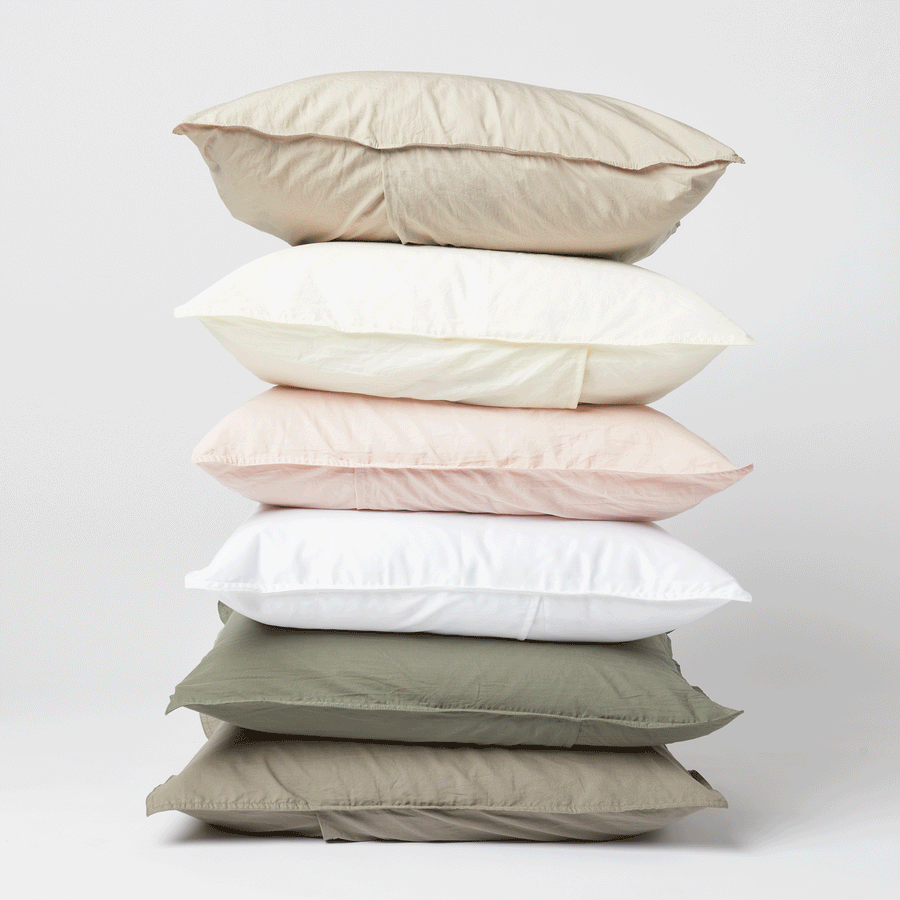 Colours, colours colours!
Mixing and matching
The magic of mixing and matching your bed linen lies (pun intended) not only in it's aesthetic effect, but it also makes it look and feel effortless, as if it's something that has evolved over time. Our range of percale bed linen comes in 8 colours in total and has been developed with this bohemian philosophy in mind, and they all go with each other, so just dig and put together your personal and unique combination from dark navy, rust, vetiver, mole, tofu, pink, greige or classic white. Have fun!