ELEVATE YOUR OUTDOOR LIFE WITH FREDDIE MEADOWS
Live in harmony with nature, and you'll live a fuller life. At least, if you ask Freddie Meadows, Sweden's most renowned surfer and avid outdoor enthusiast. With a love for both the thrill of the waves and the rush of the slopes, Freddie has become a symbol of outdoor excellence, followed by his fans at @freddiemeadows. As the new ambassador for Singular Society he shares his thoughts on ski equipment and showcases his five favorite Singular picks for the slopes.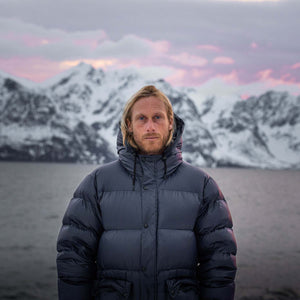 Describe your love for the mountains.

I love all kinds of riding, as I'm at that early stage where every session, hill and type of snow is very teaching. With all that being said, nothing beats walking up the mountain and then riding down. It's super fun and feels pure. Just your own power and ability. It really puts the terrain people ride into perspective. Challenging, rewarding and humbling are three words I'd use to describe it.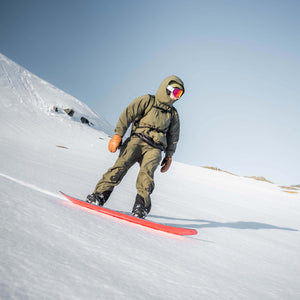 How do you gear up for a day on the slopes?
I'll use merino wool for the first layer and 3 layer alpine jacket and pants for the shell layer, and then add depending on what the daily conditions are doing or what terrain we are thinking of riding. First I will add the down liner vest or micro fleece, or both. In extreme conditions my upper body layers would be merino crewneck, micro fleece, down liner hood and then the alpine jacket with the down liner vest in my pack if necessary.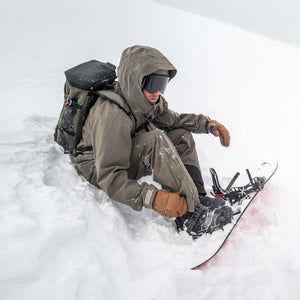 What is the most crucial equipment for you?
Gear that enhances your life and riding without holding you back in any way. I think that's when you're on to something really special. And that kind of standard and intention is felt when using Singular's ski collection. Or any of their products, really.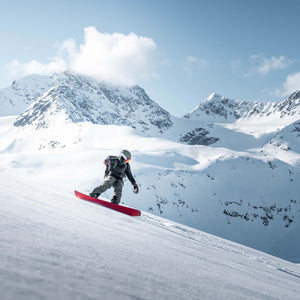 What are your favourite places to snowboard?
Arctic Norway and Åre. I haven't really been anywhere else since I picked up a snowboard again.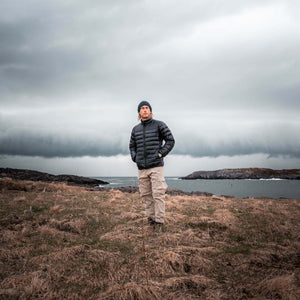 Freddie's favourite Singular picks:
3 Layer Alpine Ski Jacket + Pants
"High vibe and high function; this set has this incredible capability of providing an environment for your body to easily regulate temperature and moisture. Yet it stands strong against the gnarliest of weather and keeps everything dry. Many great vents and pockets. All where you'd want them to be."

Ski Goggles Edge
"Up until I recently reconnected with snowboarding, my usage of goggles was mainly on my jetski in the Baltic looking for waves. So I had no idea how good proper ski goggles had become. These are incredible and never fog up. The self-adjusting lens is my go-to."

Merino Tights + Merino Crew Neck
"Winter at home, whether it be the mountains or the sea, it always means layers. These are my base layers of choice. Stylish, seamless, warm and handles moisture really well."

Merino Compression Socks
"With both cold water surfing and snowboarding, I feel that if your feet are at a good temperature, your body maintains its ability to perform at its best for longer, without having to constantly compensate and regulate. These do just that in high level comfort. A vital item on my list."

Merino Balaclava
"Another vital piece in the collection, and once again, mountains or sea - a great layer to protect your ears and retain heat when the winds want to go through you."

Leather Mittens (coming soon in black!)
"Warm, durable, comfortable and easy on and off."

SHOP FREDDIE'S FAVOURITE PICKS