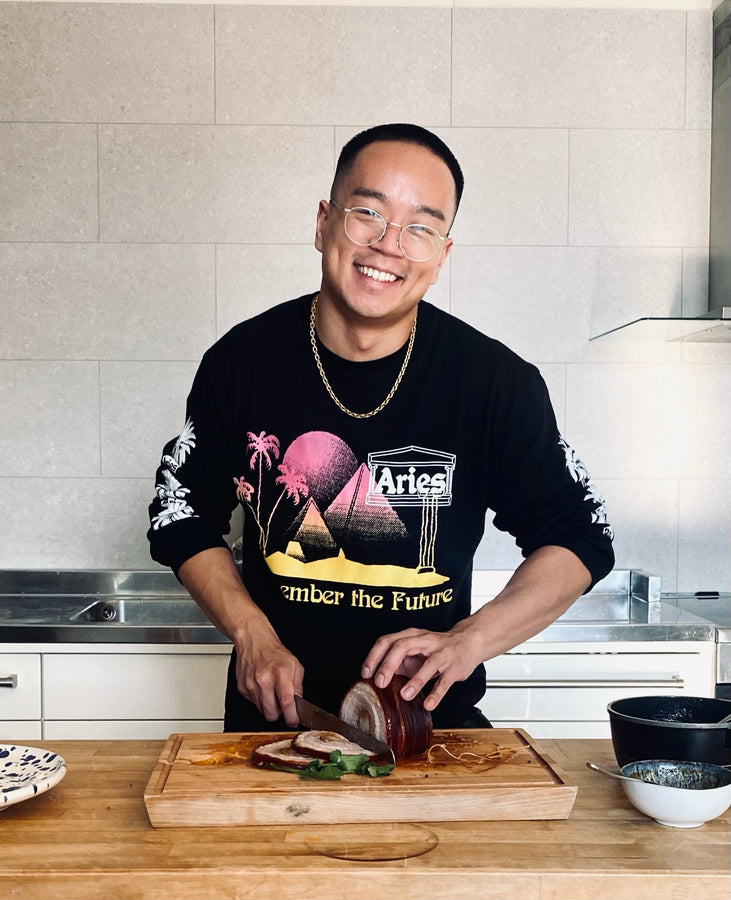 JIMMY GUO
INTERVIEW
Jimmy Guo is the copywriter and chef who enchanted us with his amazing cooking creativity in the tv show Master chef. His variety of skills and often Asian inspired dishes made him one of two finalists, and the winner of Master Chef After Hours. Now he's working on his own cookbook, completely dedicated to Chinese food. In an exclusive collaboration with Singular Society Jimmy has created a 24-hour meny, inspired by our new 100% True (Hard-Paste) Porcelain Collection.
How would you describe your cooking?
– I'm currently working on my first cookbook which is all about Chinese food so there's a lot of that right now. However, that's not everything I'm about as a cook since I love dishes from all cuisines with a particular fascination for street food dishes. However, I always look for ways to pack big flavours into my dishes. A lot of acids, and a lot of umami. I like food with a depth of flavour so I really love using spices and fermented ingredients.

What have you created for The Singular Society members?
– The dishes I've made here are meant to represent all the meals I'd eat in a single day. It's a variety of different cuisines ranging from modern European to Thai street food which all look amazing with this porcelain. They're relatively quick and easy recipes too so I hope people feel inspired to try them at home.

How do you reason when choosing porcelain for your dishes?
– My style of cooking tends to be quite colourful and expressive in itself so I usually go for quite subdued porcelain. I really love ceramics where you can see the handcraft expressed in beautiful imperfections. I think that organic element really helps to make a plate of food feel inviting and delicious.

What are the benefits of white porcelain?
– White is like a blank canvas that lets the food shine for itself. Just like a perfect white T-shirt is so hard to get right, I think it is the details and proportions that make this series so special. What I particularly love about The Singular Society collection is that thin beige border around the edge that subtly frames the food.
Are there any pitfalls when combining food with porcelain?
– Colour combinations and visual references are definitely important factors to consider when choosing a plate. Something I'm very particular about is that I always think about the transparency of the dish when choosing a plate. For example, If you have a clear sauce with a beautiful colour, you don't want it to be obscured against a dark plate. However, rules are always meant to be broken and a clash can be beautiful when done right. With white, you can pretty much plate anything, but remember there's nowhere to hide if it looks messy. 
Porcelain Dessert Bowl 16 cm 4-P
Regular price

130 kr Member

475 kr Regular



Porcelain Breakfast Bowl 18 cm 4-P
Regular price

200 kr Member

675 kr Regular



Porcelain Soup Bowl 23 cm 4-P
Regular price

265 kr Member

875 kr Regular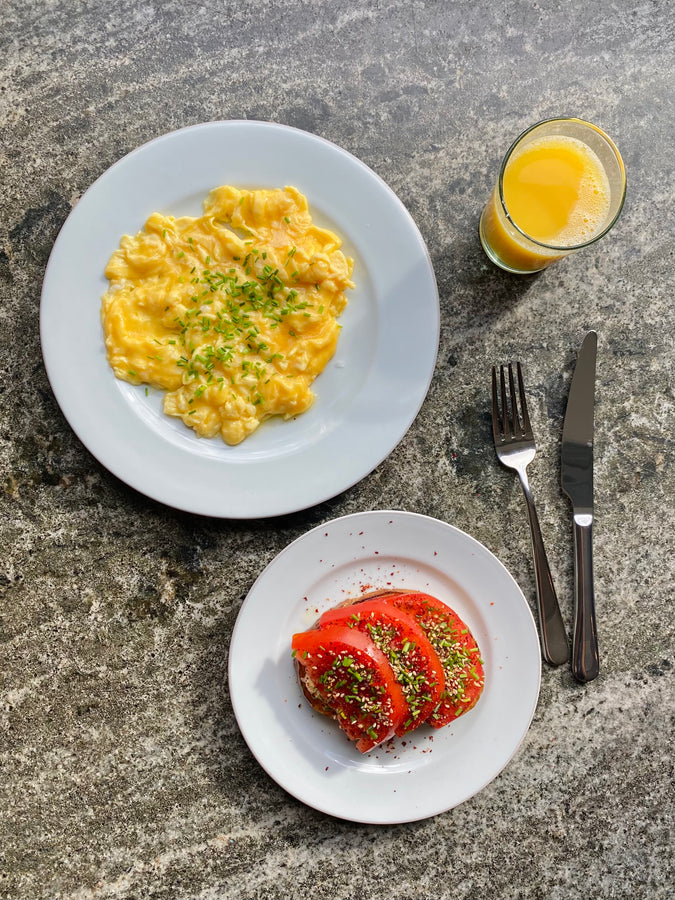 BREAKFAST
Tomato toast with soft scrambled eggs
For me, this is the perfect summer breakfast. It's healthy, filling and  it celebrates the beauty of in-season tomatoes. To make it on a weekday, I keep sliced sourdough bread in the freezer and make a bigger batch of the seasoned mayo which I keep a jar of in the
fridge.

Serves 2
Tomato toast
2 slices of sourdough bread
1 beefsteak or heirloom tomato
4 tbsp mayonnaise
1 tbsp lemon juice
1 tsp grated lemon zest
A touch of grated garlic
Gochugaru chili flakes
Chives, chopped
Sesame seeds
Flaky sea salt
Pepper
Olive oil
Soft-scrambled eggs
4 large eggs
1 tbsp butter
Salt
Chopped chives

DIRECTIONS
Tomato toast
1. Toast the bread to your liking.

2. Slice the tomato in halves, remove the core and slice into 1cm slices. Season with salt.

3. Combine mayonnaise, lemon juice, lemon zest, and just a smidge of grated garlic in a bowl. Season with salt.

4. Smear a generous amount of the mayo on the bread, arrange tomato slices and sprinkle with gochugaru, chives, sesame seeds, flaky salt, pepper and olive oil.

Soft scrambled eggs
1. Beat eggs with a fork until smooth. Season with salt. Heat a nonstick pan on medium-low heat.

2. Melt the butter but do not allow it to brown.

3. Pour in the eggs and allow to set until a thin sheet is formed at the bottom, 10-20 seconds. Using a silicone spatula, scrape sheet in towards centre and allow uncooked egg to cook. Repeat until 80% of the egg is cooked and the scramble still looks glossy. Take off heat and immediately divide onto two plates. Garnish with chopped chives.
LUNCH
Pad krapao with smashed cucumber salad
My favourite dish of all time. With its big punch of spicy savouriness and a hefty amount of fragrant basil, the flavour vs effort ratio for this dish is second to none. While it is delicious with whichever basil you have on hand, the authentic choice would be the peppery holy basil. However, don't compromise on the crispy fried egg, the refreshing salad and jasmine rice — you'll need something to balance out the intensity of the stir fry.

Serves 2
Smashed cucumber salad
1 cucumber
1 tsp flaky sea salt
1/2 red onion, sliced
3 tbsp rice vinegar
1 tbsp lime juice
2 tbsp sugar
3 tbsp peanuts, chopped
Pad krapao and crispy fried eggs
2 free range eggs
Oil for frying
2-10 fresh Thai chilies
5-7  garlic cloves
250g pork or chicken mince
1 red onion, chopped
2 tbsp oyster sauce
1 tsp sugar
1 tsp sweet dark soy sauce/kecap manis
Fish sauce, to taste
4 dl och picked basil leaves.
To serve:
Jasmine rice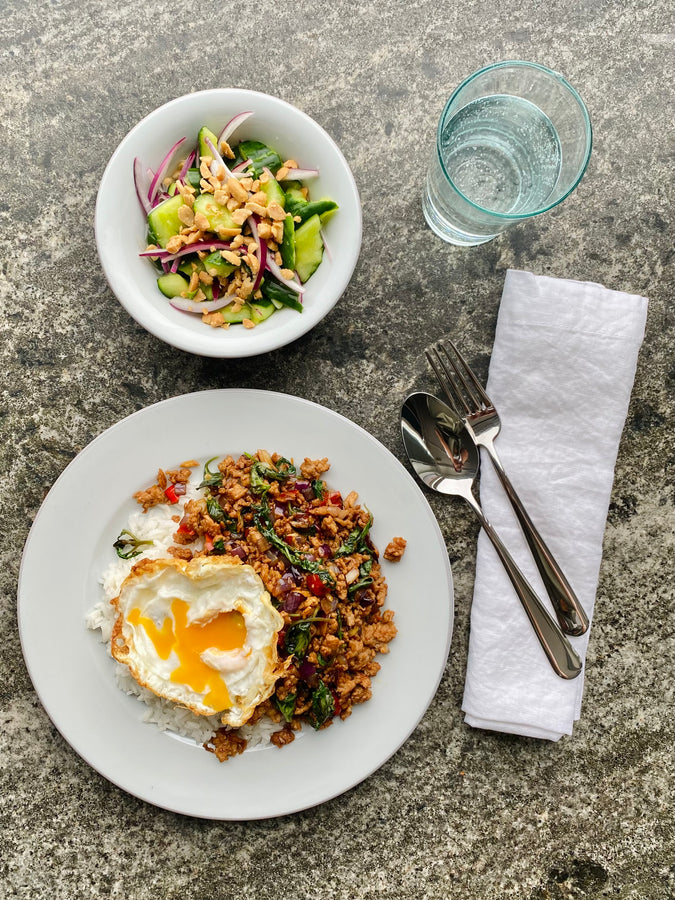 DIRECTIONS
Cucumber salad
1. Split cucumber in half lengthwise. Scoop out watery seeds with a teaspoon and smash the cucumbers cut side down using your weapon of choice.

2. Using your hands. Tear cucumber into bite-sized pieces and season with salt. Leave in a colander to drain for at least 15 minutes.

3. In a small bowl, mix rice vinegar and sugar until dissolved.

4. Combine cucumber with red onion and dress with vinegar right before serving. Top with peanuts.
Pad krapao
1. Smash garlic and chilies into a rough paste using a mortar and pestle. Choose the amount of chilies according to your spice preference.

2. Heat a generous amount of vegetable oil in a wok or skillet until smoking hot. Carefully crack in the eggs and fry until golden and crisp around the edges. Be careful and stand back as the oil may splatter. Once cooked, transfer eggs on a paper towel and set aside.
3. Pour off all but 2 tbsp oil and return wok to high heat. Add the garlic and chilies and cook for 30 about 30 seconds until fragrant.

4. Push the aromatics to the side of the pan and add the mince. Using a spatula, spread and press the mince into an even layer and leave it to brown for a couple of minutes.

5. Break up the mince into smaller pieces, add onion and continue to stir fry for 2-3 minutes on high heat.

6. Add oyster sauce, sugar and dark sweet soy. Stir through and season with fish sauce to taste.

7. Take pan off the heat and stir through the basil until wilted.

8. Serve over a bed of freshly steamed jasmine rice and top with the fried egg.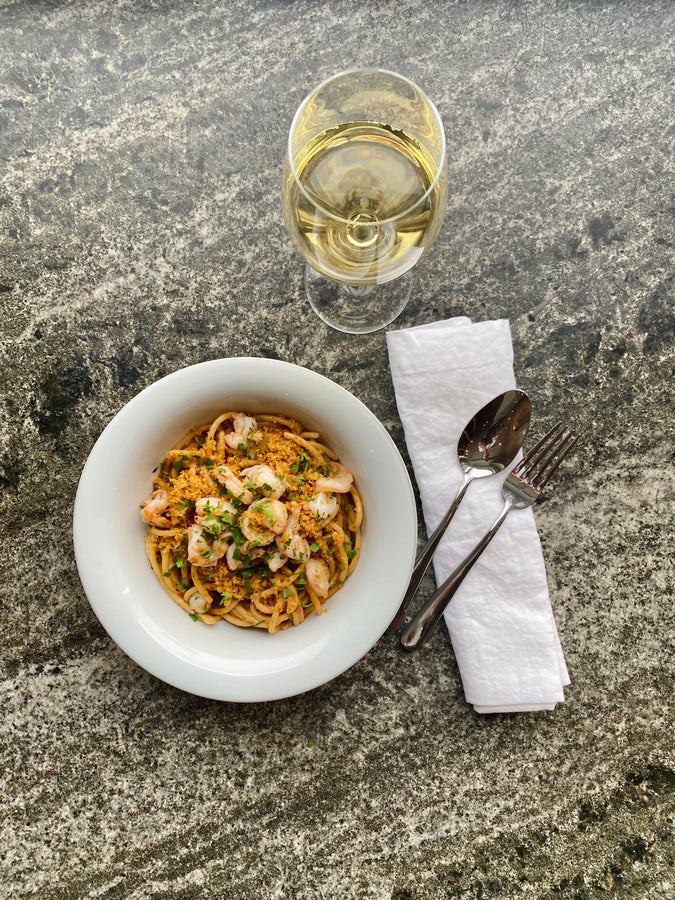 DINNER
SCAMPI PASTA
Impressive-looking yet simple to make, this scampi pasta is one of my favourite entertainment numbers. This recipe calls for head and shell-on prawns which are used to create an intensely flavoured prawn stock. The addition of toasted breadcrumbs add a wonderful texture.
Serves 4
Breadcrumbs:
2 tbsp extra virgin olive oil
1 dl panko breadcrumbs
3 tbsp grated Parmesan Cheese
1 garlic clove, finely grated
2 tsp lemon zest

Prawn and cherry tomato sauce:
500g head and shell-on prawns
4 garlic cloves, 1 grated and 3 sliced
1 tsp chili flakes
3dl dry white wine
100g cherry tomatoes, halved
500g spaghettoni toscani
2 tbsp unsalted butter
1 tbsp lemon juice
2 tsp grated lemon zest
2dl finely chopped parsley
Salt
Pepper
DIRECTIONS
1. Heat olive oil in a large high-sided skillet and toast panko over medium heat until golden and crisp. Sprinkle in Parmesan Cheese and add garlic, stir through until the crumbs are dry and crisp. Take off heat, add lemon zest and season with salt and pepper. Transfer to a bowl and set aside.
2. Peel and devein the prawns. If using large prawns, split the tails in half lengthwise. Reserve prawn heads and shell.

3. In a bowl, combine prawn tails with 1 grated garlic clove, salt, pepper and 2 tbsp olive oil. Allow to marinate while making the stock.

4. Heat olive oil on medium-high heat in a skillet and add prawn shells and heads. Cook until shells turn red and smell wonderful. Add 2 dl white wine, cook until mostly dry and follow with enough water to cover the shells. Simmer for 10 minutes and reduce until you have about 3-4 dl liquid left. Strain and reserve the stock, discard shells.

5. Wipe out skillet and heat olive oil on medium-high heat. Add the marinated prawns and cook undisturbed until lightly browned. Flip and cook until 80% cooked through. Remove from pan
and set aside.
6. Add more olive oil to the pan, add the garlic, chili flakes and cook until fragrant. Add the tomatoes and cook until they begin to melt. Add the prawn stock, season with salt and keep warm.
7. Meanwhile, cook pasta 2 minutes short of package instructions.
8. Transfer the pasta to to the skillet. Finish cooking in the sauce until al dente. Add pasta water if it looks dry. Add butter, lemon juice and zest, cooked prawns, parsley and stir through.
9. To serve, divide pasta among serving bowls. Top with breadcrumbs and more parsley.
10. Enjoy with a crisp white wine.
SNACK
Green mangoes with chili salt
To me, this snack tastes like a vacation. I also like that it works perfectly even with the unripe fruit we often get here in the Nordics. The firm and tart flesh really come alive from a sprinkle of the spicy-sweet salt.
1 tbsp gochugaru chili flakes
1 tbsp sugar
1 tsp flaky sea salt
1 lime
2 green mangoes

1. Grind chili flakes with sugar in a mortar and pestle. Add the salt, the grated zest from 1 lime and combine.

2. Peel mangoes with a vegetable peeler. Cut into sticks and arrange on a plate. Squeeze juice from the lime and sprinkle with the chili mixture.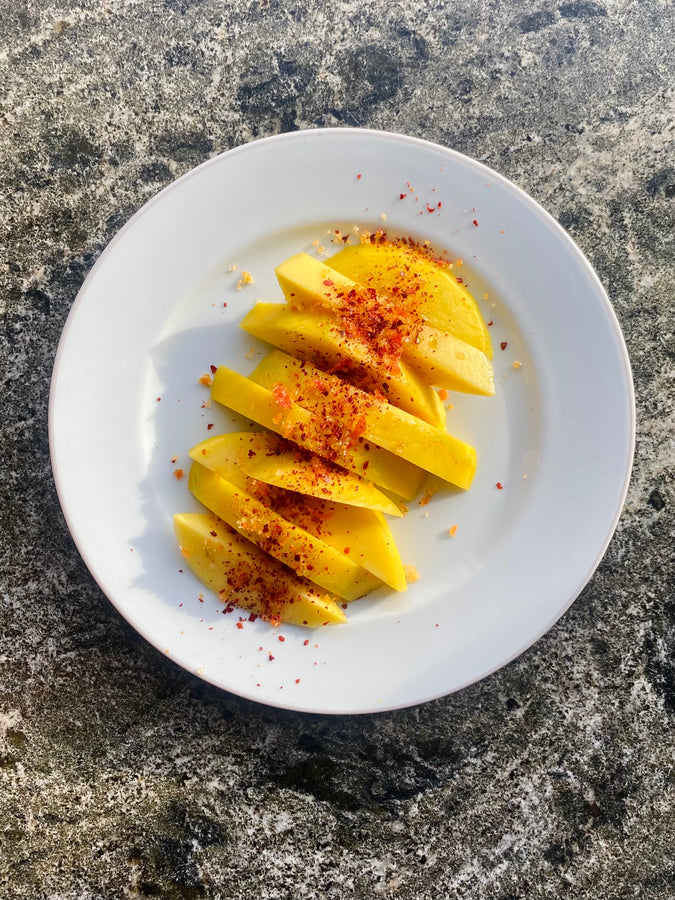 Porcelain Salad Plate 20 cm 4-P
Regular price

95 kr Member

350 kr Regular



Porcelain Dinner Plate 25 cm 4-P
Regular price

115 kr Member

450 kr Regular



Porcelain Dinner Plate 27 cm 4-P
Regular price

135 kr Member

500 kr Regular