THE MOST WORN GARMENT IN THE HISTORY
It started with a slogan: "It's an undershirt, it's an outershirt", stated in 1938 by the American retailer Sears, Roebuck and Company. The slogan made the t-shirt wearable for all occasions. But the journey started way earlier, as an undergarment for the upper class in the 19th century. The t-shirt went through many changes in terms of shape, material and form before Fruit of the Loom started with mass marketing in the 1910s. By the 1930s the t-shirt was standard among athletes and sailors and in the Second World War, the US Army was issuing white, short-sleeved, cotton t-shirts to their troops. In the 1950's the garment found its way to Hollywood via Marlon Brando and James Dean… and the rest is, as we all know, history.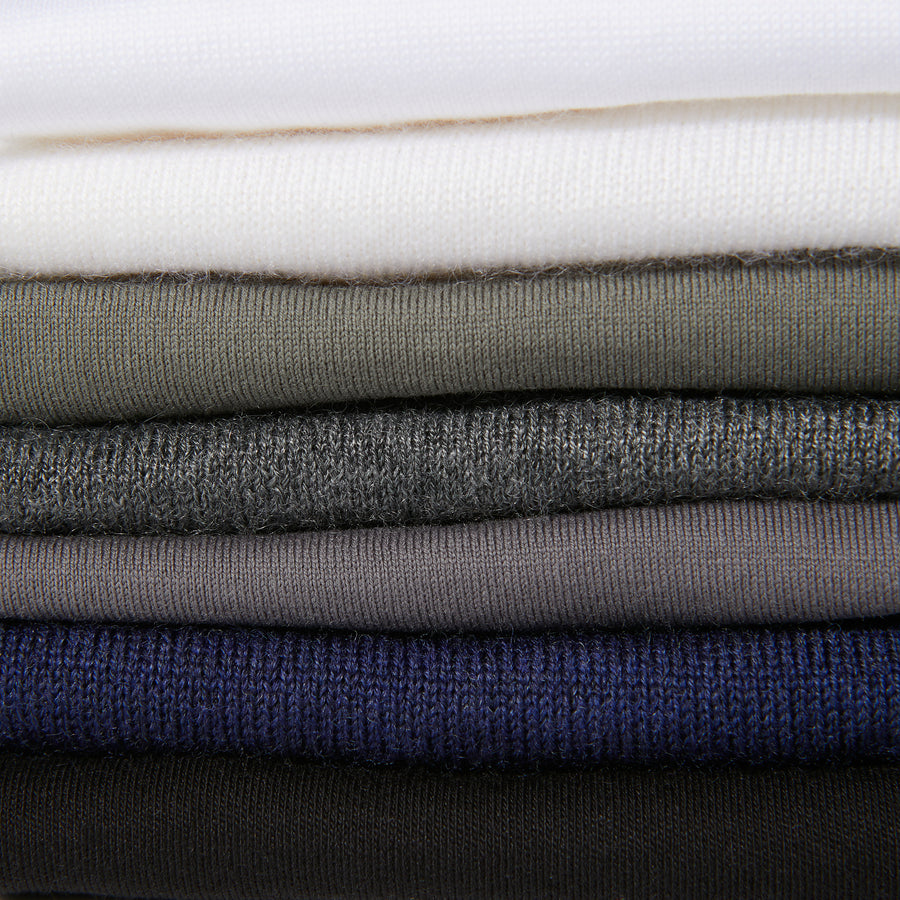 DIFFERENT MATERIALS
Different kinds of cotton are the most common material in a t-shirt. Organic cotton is softer and more comfortable than regular treated cotton. Grown with no harmful fertilizers and pesticides. Egyptian Cotton, Pima cotton and (on top of the circus) Sea Island cotton are considered to be the highest quality cotton you can get. These cottons are made from extra-long fibers, which makes the t-shirt extremely soft and durable, resisting pilling, fading, and stretching in an excellent way. Other materials suitable for t-shirts are merino wool – breathable and still with a warming effect, cashmere, which is incredibly soft to the touch, highly insulating and breathable. And of course linen, the perfect summer choice with its cooling and airy effect.
MAKE IT LAST
When washing, always use cold water which is more gentle. Go for a maximum of 30 degrees to extend the lifespan of your t-shirts made from all sorts of cotton or linen. Wools, including cashmere and merino are prone to felting and shrinking when washed, so treat them with care. Use "Delicate wool & cashmere detergents", a garment bag and your washing machines wool program on a maximum of 30 degrees. No centrifuge or tumble drying. Then lay it out on a bath towel on a flat surface and let it dry. Make sure to not stretch it. You can also wash cashmere and wool by hand.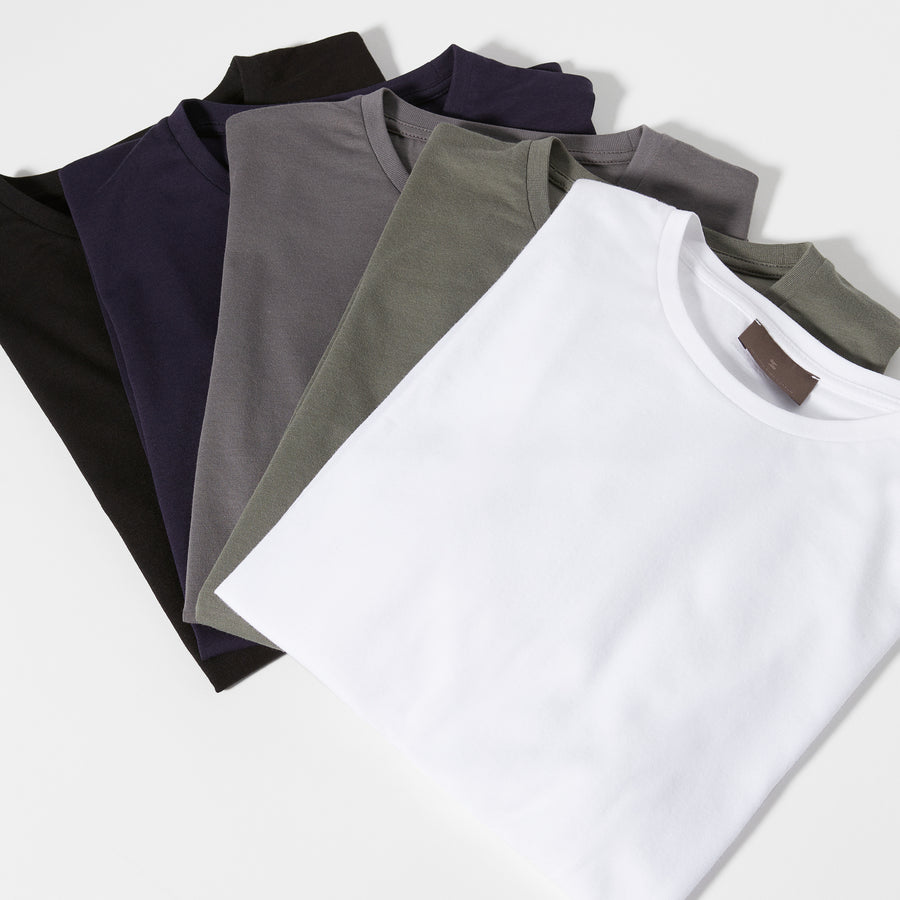 OUR MODELS
The Singular Society collection of high quality t-shirts is a range of different styles and materials, creating a selection of tees that will stand the test of time and fulfill most needs and preferences – no matter the place or occasion.

100% Peruvian pima cotton
PERUVIAN PIMA T-SHIRT
Our ultra-lightweight essential tee is the perfect mix of a thin, lightweight T-shirt that also doubles as a layering tee; we leave that entirely up to you. Made from 100% Peruvian Pima cotton, a classic round neck with shell binding and a tailored fit that follows your body closely. This t-shirt fits most body types and will stand the test of time if you care for it thanks to the high-quality cotton with extra-long fibres.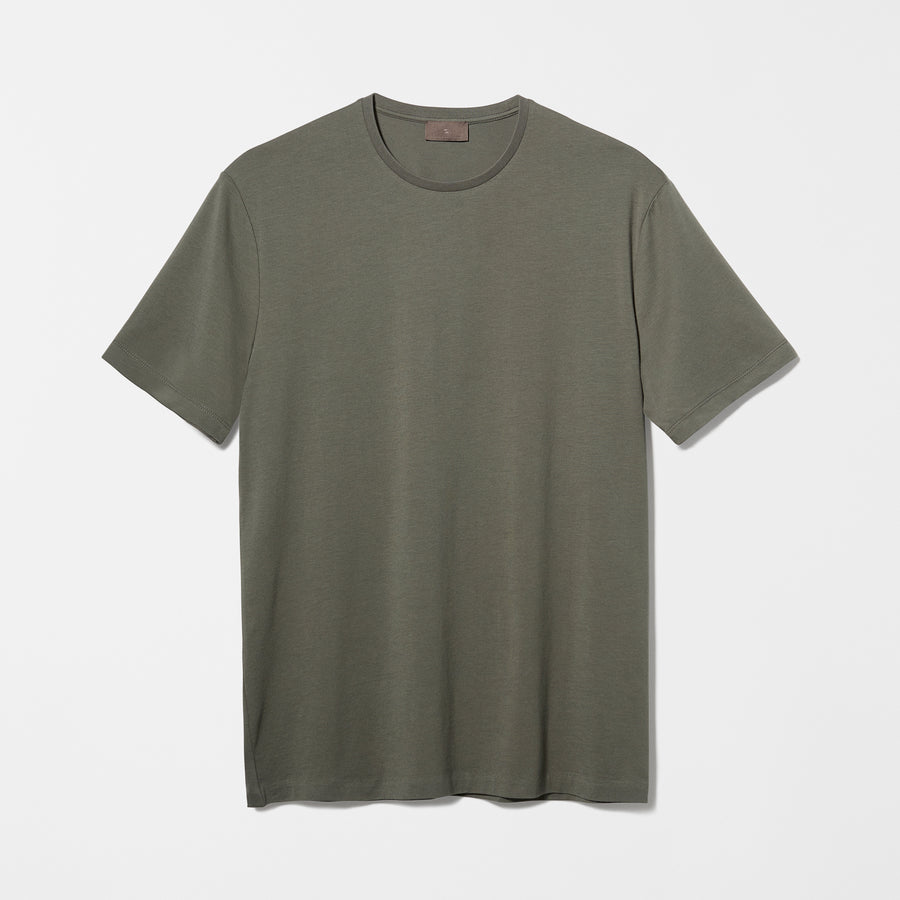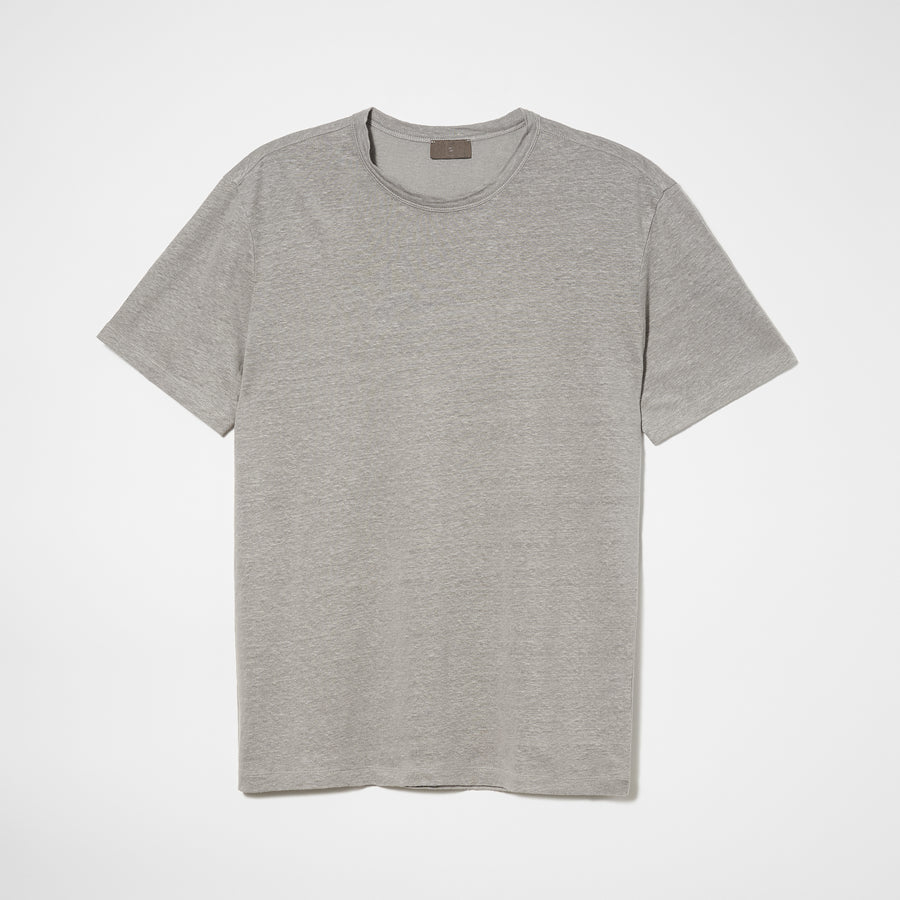 100% organic linen
Organic Linen Tee
Made from 100 % organic linen, our summer t-shirt has amazing cooling and airy effects. It's the perfect choice when looking for a soft, casual and comfortable tee for all occasions in a warmer climate. Reinforced stitches at shoulder seam and a nice shape that fits most body types.
100% SEA ISLAND COTTON
Sea Island T-shirt
Sea Island Cotton (Gyssopium Barbadense) originates from South America and the Caribbean. It's the finest cotton known to man thanks to its unparalleled softness, durability and fiber quality. Its limited areas of origin also means that it is quite rare to come across, to say the least, especially in a t-shirt.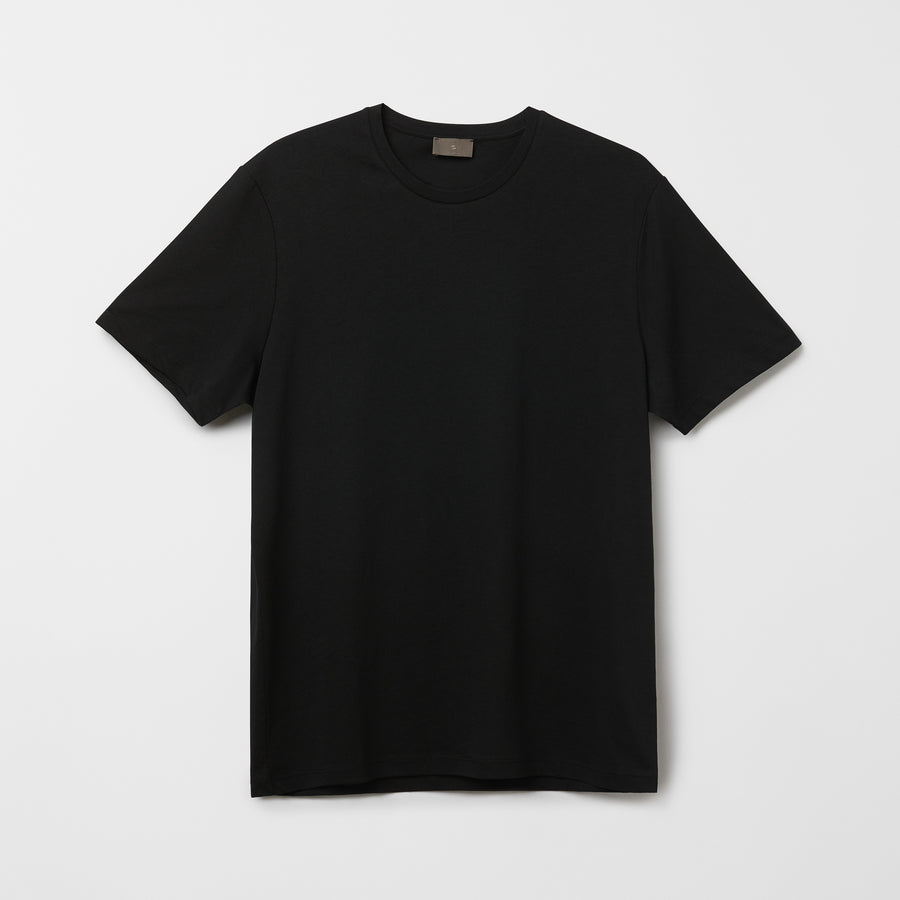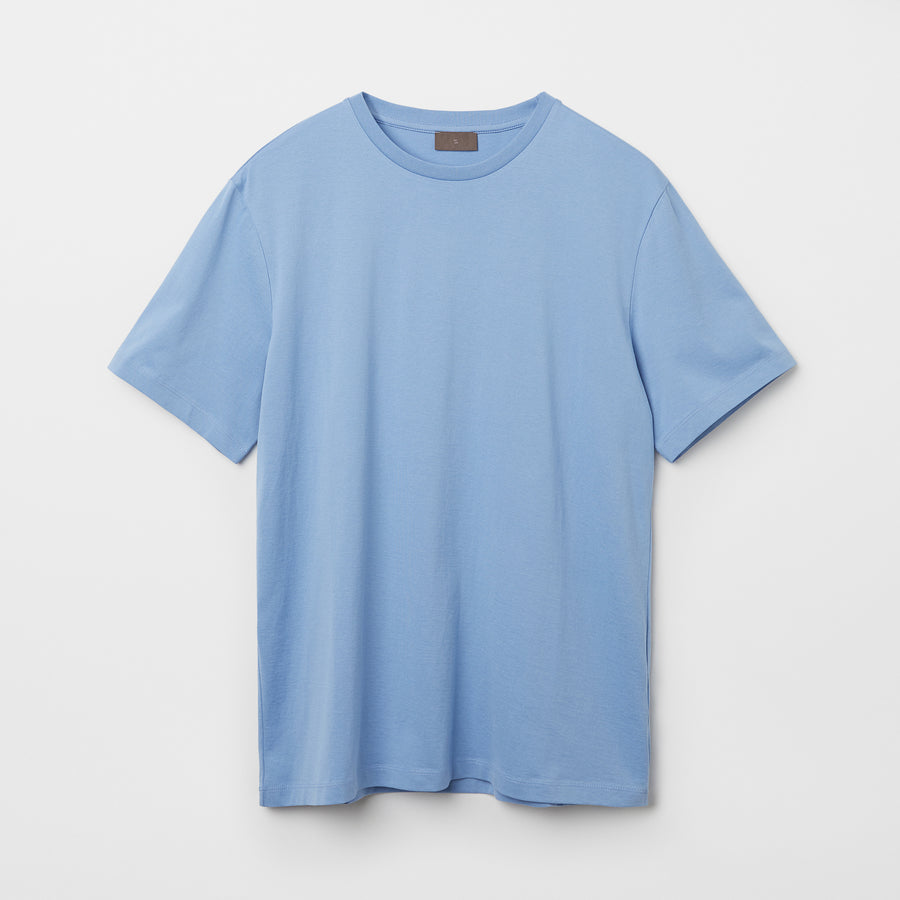 100% EGYPTIAN COTTON
Egyptian Cotton T-shirt
Our everyday lightweight essential tee leaves nothing to chance. It's made from 100% Egyptian cotton, a classic round neck rib collar, and a tailored yet still casual cut. A true full blood that will fit most body types, styles and occasions.
100% organic cotton
Organic Cotton Pocket Tee
Our heavy jersey tee made from 100% organic long staple cotton is the perfect stand alone t-shirt when you want to go for a little more character. The top applied neck rib and patch pocket with rounded corners combined with the incredible thickness and softness gives it the perfect combination of a tailored but still relaxed everyday look.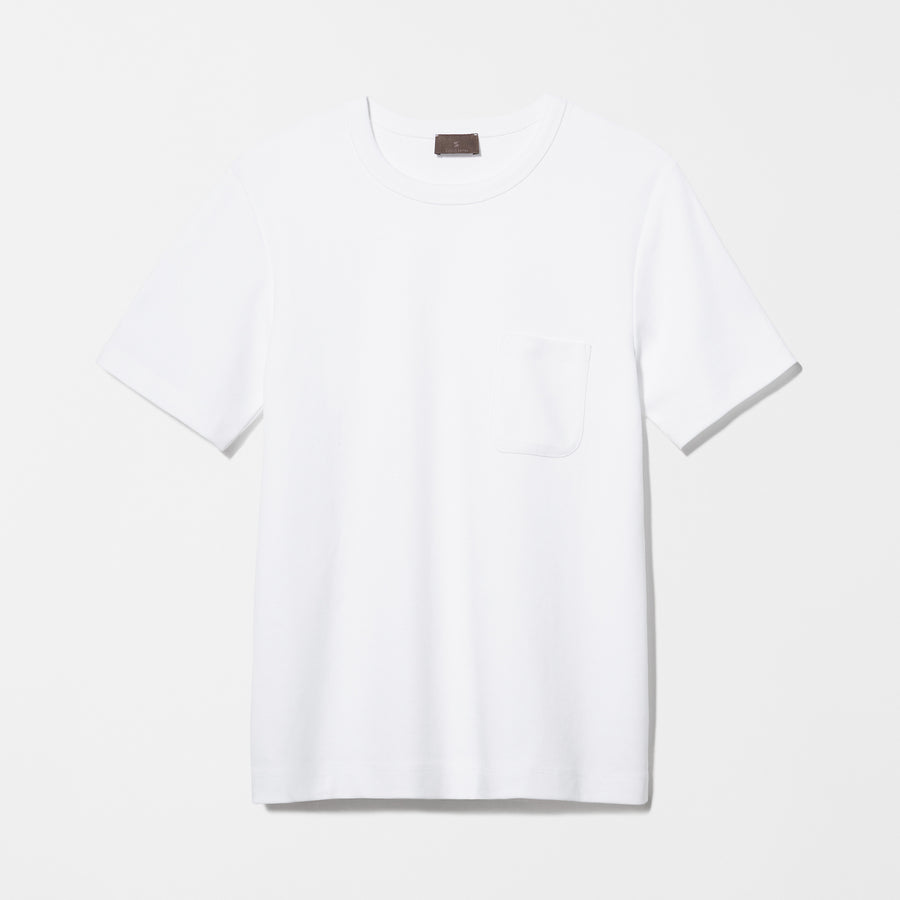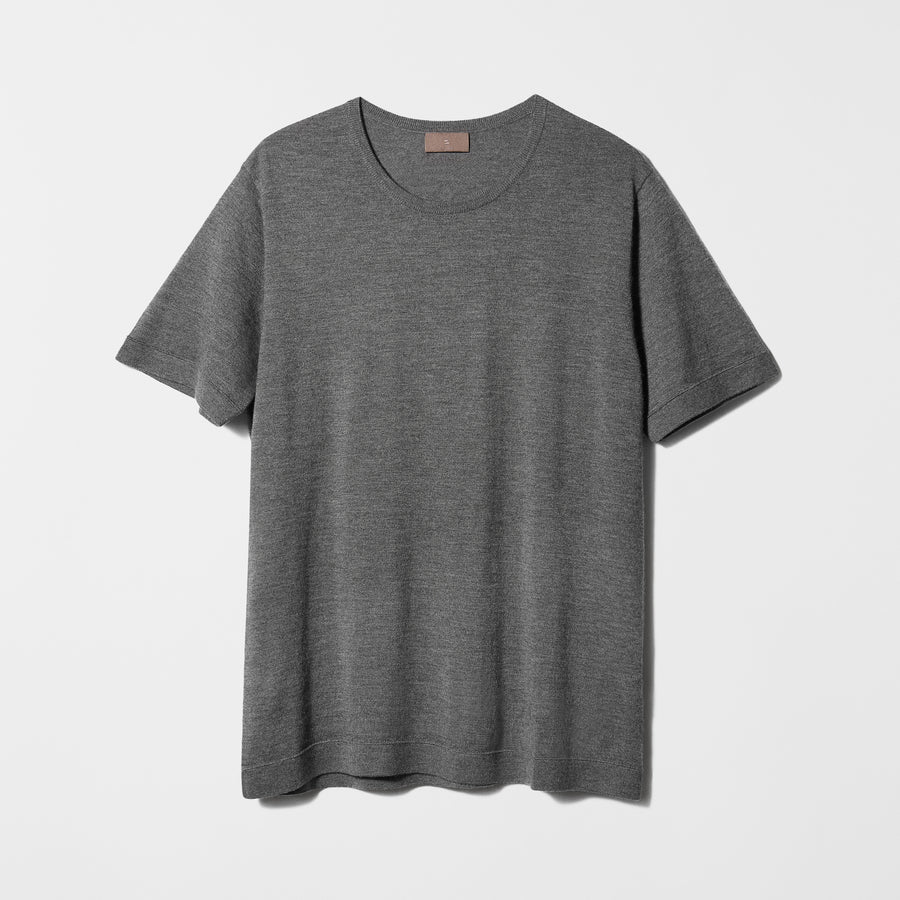 100% CASHMERE (GOOD CASHMERE STANDARD CERTIFIED ™)
ROUND NECK ULTRALIGHT CASHMERE T-SHIRT
Made from the finest Grade A Cashmere yarn, this straight cut round neck cashmere t-shirt is the epitome of everyday luxury. It has a generous fit and unbelievable softness. It fits any occasion and has the power to not only keep you warm during unpredictable weather, but it is also highly breathable and light. It's the perfect companion for spring or autumn.
AUSTRALIAN SUPERFINE MERINO WOOL
Merino t-shirt
Made from 100% Australian Superfine Merino Wool and a retro-style sewn-on cuff, this is not your average t-shirt. Perfect for spring or versatile weather as it's made to be highly breathable and still with a warming effect, but it can be a preferred choice also for its aesthetic appeal and fit.